Last Updated on September 22, 2023
Huckleberries are small, dark-colored berries that have an intense flavor that's sweet but also slightly tart. These berries are packed with valuable antioxidants and other nutrients that may provide many potential health benefits.
With their unique flavor, huckleberries can be enjoyed in many ways, such as in jams, jellies, and other desserts. This huckleberry jam is the perfect way to make use of these delicious berries and enjoy a flavorful treat!
This huckleberry jam requires just a few ingredients and easy steps. In no time, you can whip up a batch of homemade huckleberry jam that's sure to please the whole family every time. So, let's get started!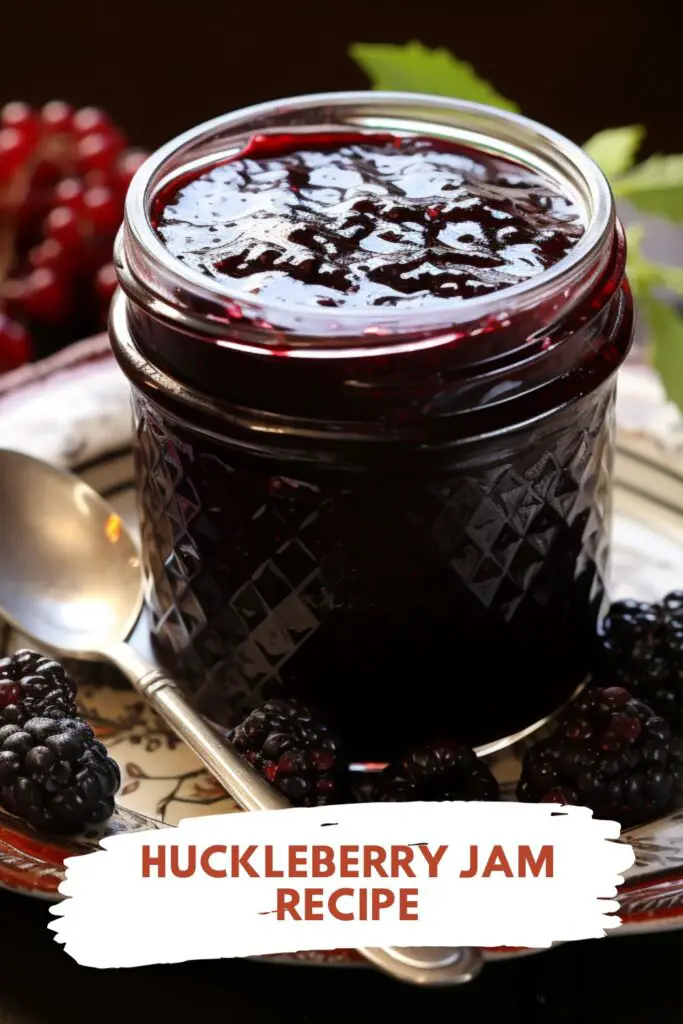 What is Huckleberry Jam?
Huckleberry jam is a delicious condiment made with wild huckleberries that are mashed and then cooked with sugar and pectin. Huckleberry jam is a great way to preserve the flavor of these berries so you can have them all year round.
Wild huckleberries are found in many parts of North America, including the Appalachian Mountains and the Pacific Northwest. While they're not as widely available as other types of berries, they have a distinct flavor that makes them worth seeking out for this special jam.
What does it taste like?
Huckleberry jam has a sweet, tart surface with notes of vanilla and cinnamon. The intense flavor of the huckleberries makes this jam stand out from other types of jams made with berries.
The balance of sweet and tart will tantalize your taste buds and make you reach for more. The jam has a thick, spreadable consistency that's perfect for spreading on toast or using as a topping for desserts.
How did I first get introduced to the Huckleberry Jam?
I was introduced to huckleberry jam while living in the United States for a few years. I first tasted it at a family gathering and immediately fell in love with its unique flavor.
I asked around and found out that it was made from wild huckleberries, which are native to North America. After doing some research online, I learned how to make the jam myself at home.
After much searching, I was able to find some wild huckleberries that were perfect for making my own homemade jam.
I was so excited to try out my new recipe that I decided to invite some friends over for a jam-tasting party. Everyone was amazed at how delicious my huckleberry jam was, and now it has become a staple in my home.
I have since made several batches of huckleberry jam using wild huckleberries from the Pacific Northwest. I'm always excited to share this jam with friends and family, who are always delighted by its delicious taste!
You can also read the following appetizer recipes:
How to make Huckleberry Jam?
Making huckleberry jam at home simple enough and much less expensive than store-bought varieties.
Ingredients
Lemon Juice: Adds a zesty and tart flavor to the jam.
Pectin: Helps the jam set up and become thick.
Cane Sugar: Sweetens the jam without overpowering it.
Wild Huckleberries: Small, dark-colored berries that have an intense flavor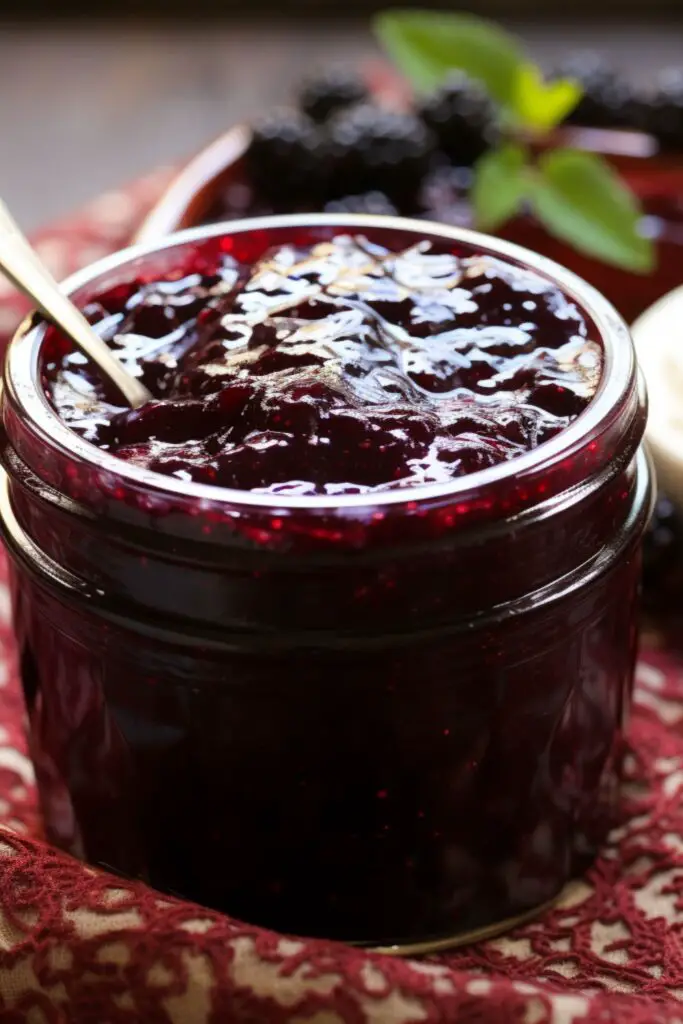 Step-by-step instructions
Step 1
Wash the huckleberries, then mash them in a bowl using a fork or potato masher. Measure out 1 cup of mashed huckleberries and add it to a medium-sized saucepan.
Step 2
Add the sugar and pectin to the saucepan with the huckleberries. Give everything a good stir to combine the ingredients.
Step 3
Add the lemon juice and turn on the heat to medium-high. Bring the mixture up to a gentle boil, stirring occasionally with a rubber spatula or wooden spoon.
Step 4
Once the jam has reached a full rolling boil (one that doesn't stop when stirred), lower the heat to medium-low and simmer for 10 minutes. Keep stirring occasionally during this time.
Step 5
After 10 minutes, turn off the heat and let the jam cool. You can spoon a bit onto a plate and place it in the freezer for a few minutes to check if it has reached your desired thickness. If so, you can move on to the next step.
Step 6
Once cooled, spoon or pour the jam into jars and seal tightly with lids.
Tips
Add a teaspoon of vanilla extract for an extra flavor boost.
Use more or less sugar depending on your desired sweetness level.
Make sure to follow the instructions closely and stir regularly to avoid burning the jam on the bottom of the pan.
A drop or two of food coloring can be added to give the jam a nice color.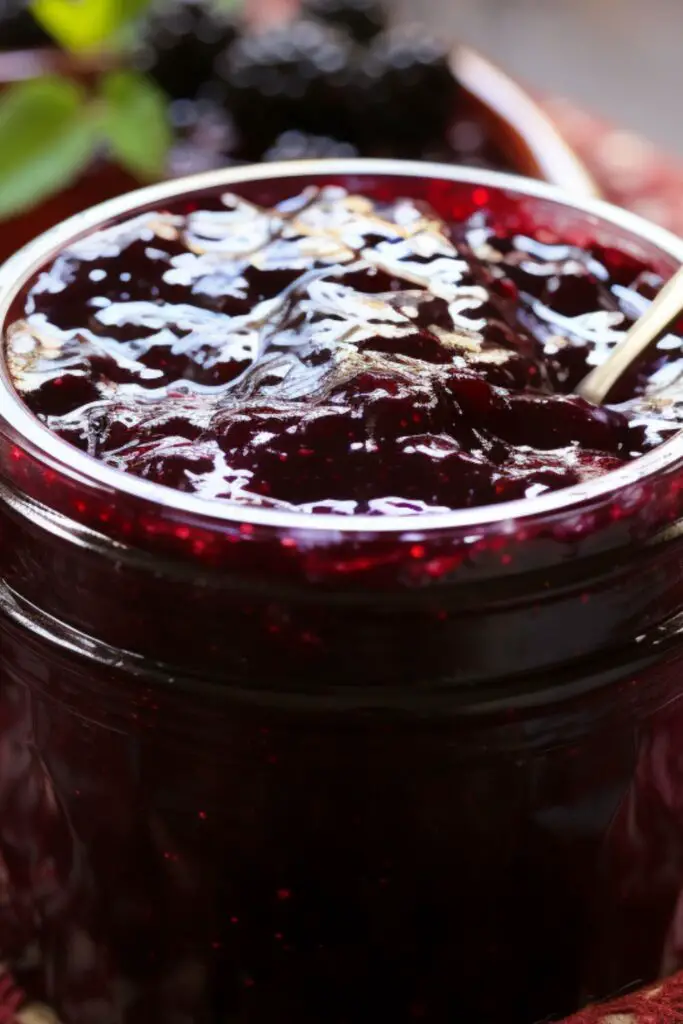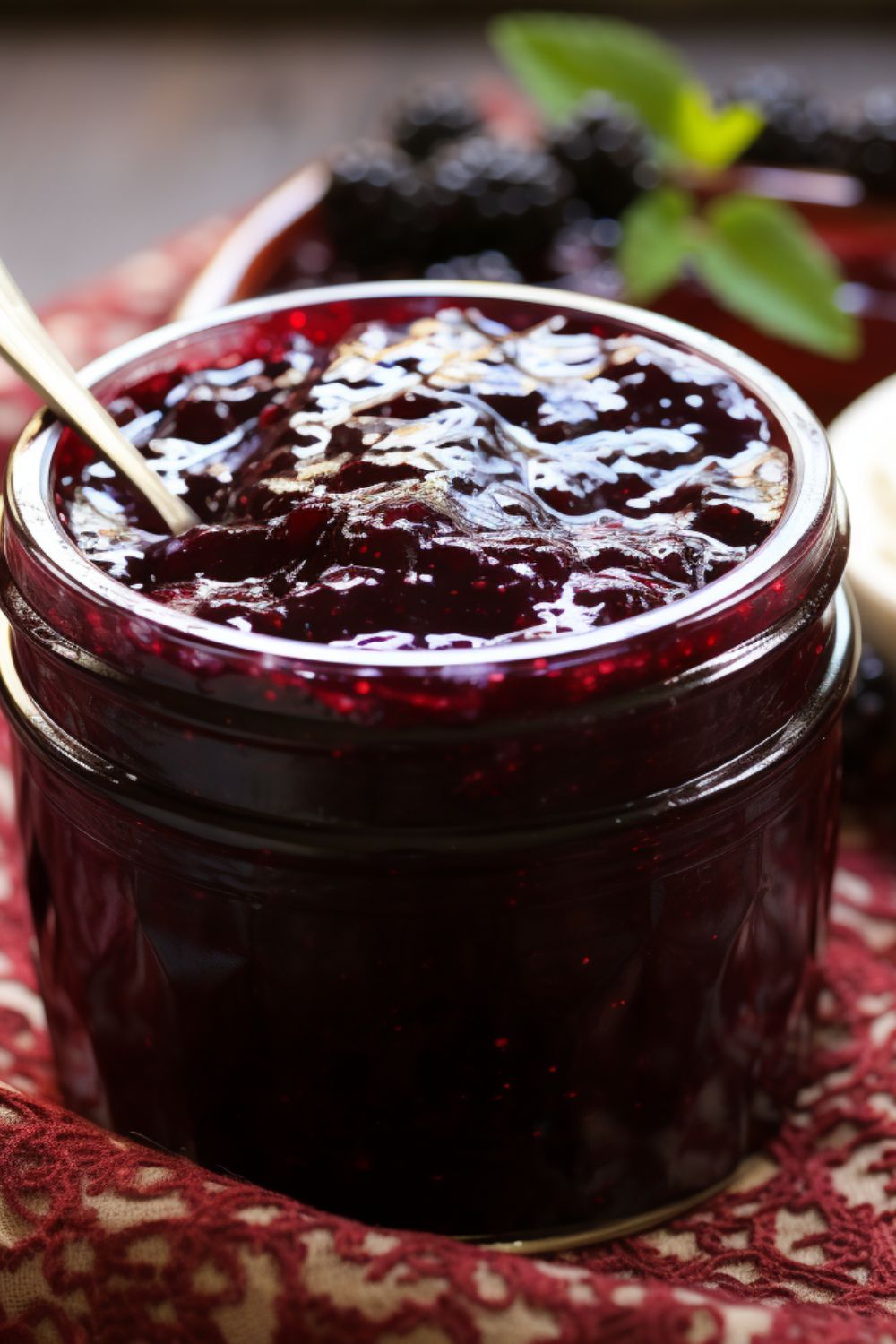 Ingredients
1

tbsp

Fresh lemon juice

1

tbsp

classic powdered pectin

1

cup

cane sugar

1

cup

wild huckleberries
Instructions
Mash huckleberries, then add to the saucepan.

Stir in sugar and pectin.

Add lemon juice, and bring to a boil.

Simmer for 10 minutes, stirring occasionally.

Cool jam & check if the desired thickness is reached.

Pour into jars and seal.
Video
Notes
Add a teaspoon of vanilla extract for an extra flavor boost.

Use more or less sugar depending on your desired sweetness level.

Make sure to follow the instructions closely and stir regularly to avoid burning the jam on the bottom of the pan.

A drop or two of food coloring can be added to give the jam a nice color.
Nutrition
Nutrition Information
What to serve with Huckleberry Jam?
Huckleberry jam is not only delicious on its own but it can also be used in a variety of dishes. It's the perfect topping for toast or scones, and it makes an excellent accompaniment to pancakes and waffles.
You can use it to enhance your favorite smoothie or yogurt parfait. It's also great for adding a sweet and tart flavor to desserts like cheesecakes, ice cream sundaes, and pies. Huckleberry jam is also a great way to dress up plain oatmeal or porridge in the morning.
How to store leftover Huckleberry Jam?
Once the jam has been cooked and cooled, store it in an airtight container or jar with a lid. For optimal shelf life, keep the jam sealed in the refrigerator where it can last up to three months. Alternatively, you can freeze the jam for up to one year for longer-term storage.
When freezing huckleberry jam, make sure to leave some space at the top of the jar or container to allow for expansion. To thaw frozen jam, simply transfer it to the refrigerator and let it thaw overnight.
Can pregnant women eat this?
Yes, pregnant women can safely eat huckleberry jam. Pregnant women should follow the same guidelines for storing and consuming the jam as other individuals.
As long as it is stored properly and not left out at room temperature for more than two hours, there is no risk of food-borne illnesses.
It's important to note that pregnant women should be mindful of their consumption of added sugar, especially during the second and third trimesters. However, huckleberry jam is still a healthy snack as it contains Vitamin C, fiber, and antioxidants.
All these benefits make it an ideal choice for expectant mothers who are looking for a sweet treat in moderation.
FAQs 
What if I don't have wild huckleberries?
If you don't have access to wild huckleberries, you can still make delicious jam. Frozen or canned berries work just as well and will give similar results.
How can I make this jam thicker?
If you prefer a thicker jam, you can add an extra tablespoon of pectin or reduce the cooking time by a few minutes. To ensure that the jam reaches the desired consistency, test it on a plate in the freezer after cooking.
Can I use sugar substitutes in place of cane sugar?
Yes, if you are looking to reduce your sugar intake, you can use an alternative sweetener in place of cane sugar. Popular substitutes include honey, agave nectar, coconut palm sugar, and maple syrup. Make sure to adjust the amount to suit your taste.
Wrapping Up
Thank you for reading our guide to making huckleberry jam at home. I hope you have found this information helpful and that it inspires you to give it a try!
Please share this article with your friends and family, so they can also experience the delicious taste of homemade huckleberry jam.
You Might Also Like These Recipes!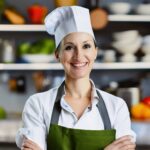 Rebecca Novak is a trained chef with over 10 years of experience in the food industry. She has worked in both fine dining and casual Hungarian restaurants and specializes in creating dishes using fresh, seasonal ingredients. She also loves exploring different cuisines worldwide, which allows her to bring unique flavors and ideas to the recipes she creates for Hungarianchef.com. Read more